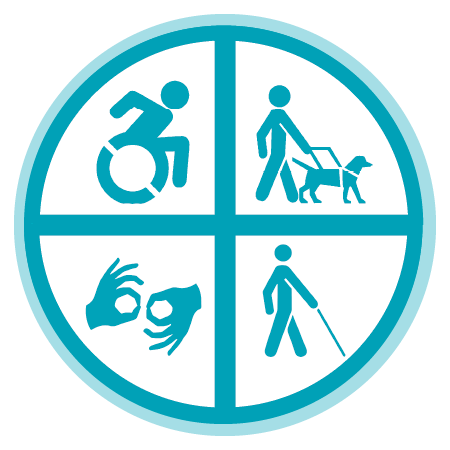 NNS Accessibility Policy
The National Neurotrauma Society is committed to making information and technology accessible to everyone, in accordance with W3C-based guidelines on which Section 508 of the U.S. Rehabilitation Act (29 U.S.C. 794d) and the U.S. Equality Act are based.  The NNS conference team strives to create content more user-friendly to people with disabilities.
If you have a disability and require accommodations, please This email address is being protected from spambots. You need JavaScript enabled to view it. as early as possible but at least 60 days prior to the conference to allow adequate time for us to assist in meeting your needs.
Real-Time Captioning Services and Special Needs Requests
Real-Time Captioning Services will be provided upon attendee request for all lectures in the main plenary ballroom. If captioning is requested, dedicated seating areas near the screens will display the captioned text.  If you require American Sign Language or CART Transcription Services, please contact us at least 90 days in advance of the annual meeting to inquire about these services.
If you have a disability or special need that may affect your participation in the annual meeting, please contact This email address is being protected from spambots. You need JavaScript enabled to view it.. NNS cannot ensure the availability of appropriate accommodations without prior notification of need. For assistance with special needs or disabilities onsite, visit the hotel Concierge Desk.
ADA Accessible Transportation
ACCESS is a shared-ride, advance-reservation paratransit service that operates throughout Pittsburgh and surrounding Allegheny County from 6:00 a.m. to midnight, every day of the year. Eight companies provide service for ACCESS. Riders must use tickets to pay for their transportation. The number of tickets charged for a trip depends on the length of the trip. The minimum one-way fare is 4 tickets ($2.25) and the maximum is 8 tickets ($ 4.50).  An eligible person with a disability visiting the Pittsburgh area is eligible for 21 days of travel on ACCESS in any single year.  
Click here for complete details and booking information
Wyndham Grand Pittsburgh Downtown
Onsite & Room Accessibility Features:
Parking / drop off point adjacent to entrance
Wheelchair-Accessible Elevators
Bathroom rails
Emergency instructions in pictorial form
Emergency procedures for guests with disabilities
Accessible closet
Roll-in shower area with bathroom seat
Shower safety bars
Walk-in Showers
Subtitles/closed captions available on TV
Telephones with amplifier or TDD
Wheelchair accessible meeting space
The Wyndham Grand Pittsburgh Downtown hotel is committed to doing everything within our power to meet the special needs and interests of each and every one of our guests.